1st October saw 5 Seapark AC ladies heading to Peatlands Park, Dungannon for the 10K Jog around the Bog for Guide Dogs NI.
Karen Waring was the first Seapark lady to finish with a time of 57:34.  She was followed by Jacqui Coghlan 1:00:33, Carol Woods 1:00:33, Julie Marshall 1:00:48 and Karen Hanson 1:02:20.
Meanwhile Neil Harper took part in a works charity run, the Fujitsu 5K Action for Children.  He came 3rd in a field of 10 people with a time of 25:58.
On Sunday 2nd October there was another fun filled day at the 5K Waggy Races at Mount Stewart.  Taking part were Cody & Robert Murray who finished 9th in 20:57, Oska & Neil Harper who finished 39th in 26:57, Sasha & Dixie with Gary Craig who finished 64th in 30:38 and last but by no means least; Bazil, Nikita & Glenda Murray who finished in 41:50.  In true Seapark style Oska got a little bit competitive and tried to take Cody and Robert out at the start.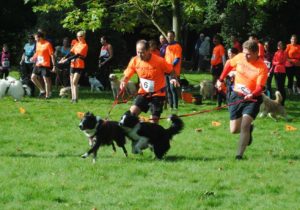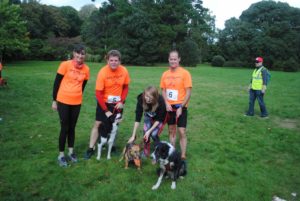 On Saturday 8th October Seapark was well represented in this year's GR8 Dundrum 8 mile race, with no fewer than 35 athletes taking part.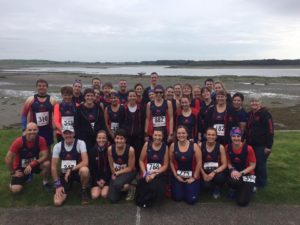 Results; Richard Craig 51:15, Bobbie Irvine 57:35, Mark Welsh 1:00:12 PB, Paul Daniels 1:01:05 PB, Philip Mone 1:02:04, Gillian Strudwick 1:06:05 PB, Heather Haggan 1:09:04, Amy Beatson 1:09:42, Janet McCullough 1:09:48, Kate Delaney 1:10:00, Allan Grant 1:10:29 PB, Julie Clyde 1:11:11, Laura Johnston 1:12:42, Nicola Irvine 1:13:36, Karen Waring 1:15:10, Alison Welsh 1:15:19 PB, Lynette Magill 1:15:53, Andrew Smyth 1:16:17, Wesley Wallace 1:16:17, Neill Harper 1:16:17, Catherine Steele 1:16:28, Sarah Rea 1:16:31, Julie Lyness 1:16:36, Alison Dunlop 1:20:01, Philip Magill 1:21:42, Alyson Sangster 1:21:43 PB, Loran Dunn 1:21:43, Rebecca Tester 1:21:54, Marie Nicholson 1:22:48, Josephine McAlister 1:24:51, Ellie Wallace 1:26:08, Suzanne McConkey 1:27:04, Beverley Kernoghan 1:27:06 PB, Lauren Scott 1:30:47 PB & Caroline Mone 1:34:46.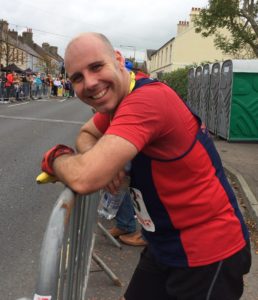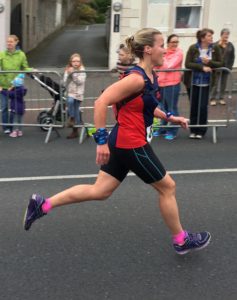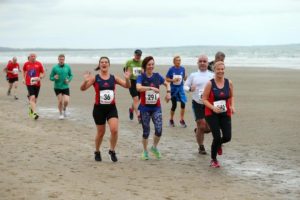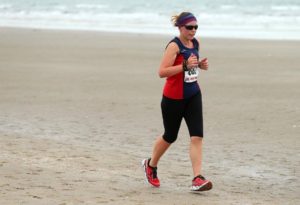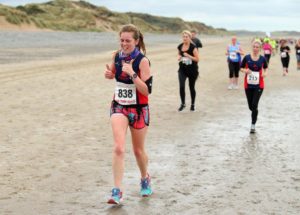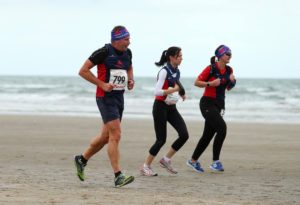 Further afield Karen McMaster completed the Royal Parks Half London Marathon in a time of 2:30 on Sunday 9th October.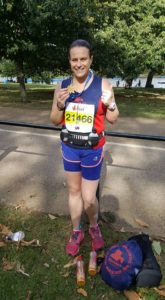 Glenda and Nikita Murray both took on the scarily difficult 5K obstacle course at the Zombie Run on Sunday 9th October and survived to tell the tale.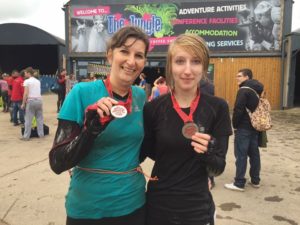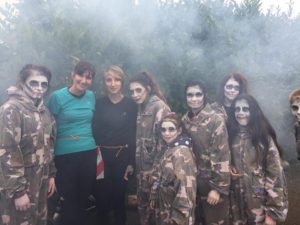 On Saturday 15th October Richard Hetherington, Jonathan Beattie, Paul Daniels and Gillian Barnhill competed in the The Wall Adventure Duathlon staged from Silent Valley in the Mourne mountains.  The race comprised a 3K run, 45K road cycle + 15K mountain run.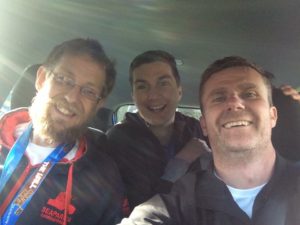 Results; Jonathan Beattie 3:33, Richard Hetherington 3:44, Paul Daniels 3:52 & Gillian Barnhill 5:31.
On Sunday 16th October a number of Seaparkers took part in the Knockathon half marathon organised by East Antrim Marathon Series.  The weather was atrocious with high winds and heavy rain but in spite of the conditions Seaparkers took all 3 podium positions in the men's race and 1st & 3rd places in the women's race.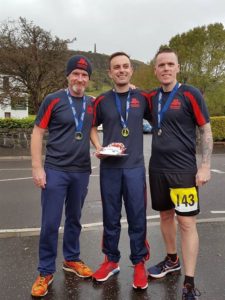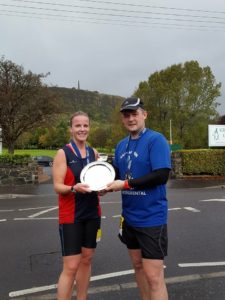 Results; Ian Cleland (1st place) 1:30:00, Charlie McCormick (2nd place) 1:32.40, Brendan Rice (3rd place), 1:41:07, Gary Connelly 1:51:20, Gillian Strudwick (1st female) 1:52:00, Gillian Barnhill (3rd female) 1:59:00, Patrick Hughes 1:59:22, Martin Clyde 2:01:26, Laura Johnston 2:01:39, Sara Johnston 2:03:38 PB, Jacqui Coghlan 2:05:58 (course PB), Julie Clyde 2:06:23, Karen Hanson 2:19:51, Josephine McAlister 2:27:12, Phil Magill 2:28:00, Marie Nicholson 2:31:28 & Caroline Mone 2:43:00.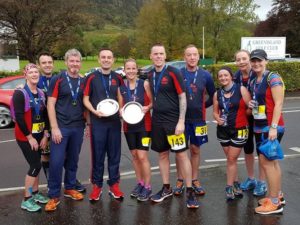 Sun 23rd October saw a lot of Seaparkers achieving a PB at the runher Titanic 10K.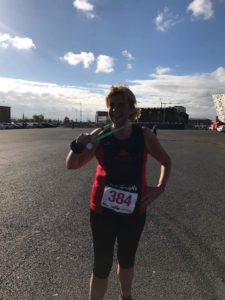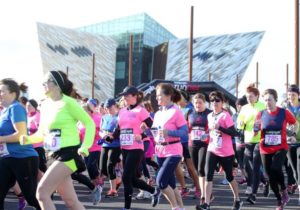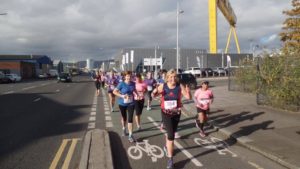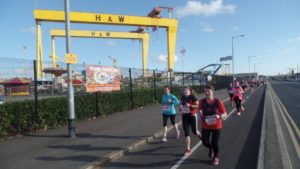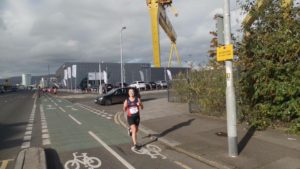 Results; Jenney Martin 48:12, Amy Beatson 49:31, Rosie Hay 51:33, Jessica Lyness 55:20 PB, Catherine Steele 55:35, Claire Hamilton 56:24 PB, Jackie Reid 59:11, Lauren Lavery 59:25 PB, Susan Kane 1:00:41 PB & Karen Mcilroy 1:02:39 PB.
On Wednesday 26th October Gillian Cordner ran the Armagh City Marathon.  She was 1st lady with a time of 4:28:00.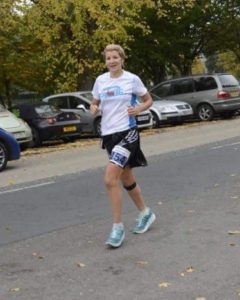 On Friday 28th October a presentation took place for the Pure Running Half Marathon Series.  Charlie 'always second' McCormick took (what else) second place in his age group.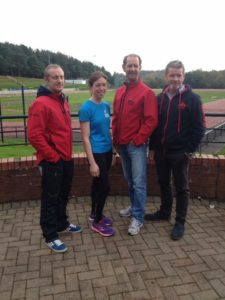 Further afield Robert Murray ran the SSE Airtricity Dublin Marathon on Sunday 30th October.  He finished with a time of 3:28:55.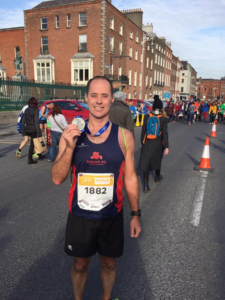 What's that coming over the Hill?  It's Thomas & Nicola Dunlop taking part in the 10K Running Scared.  It was a Halloween themed run over Divis/Black Mountain that took place on Sunday 30th October.  This was not an officially timed run.