Monday 6th April 2015 (Easter Monday), Jennie Hagan, Seapark Junior,  was one of the two hundred athletes taking part in the annual Whitehead 5 mile road race.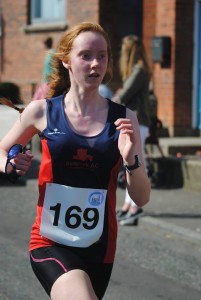 A first race for Jennie, the popular long standing Easter Monday fixture has become a 'must do' event for many Seaparkers and the weather was perfect as the athletes took on the challenging three lap course.
Good results were posted from all of the 14 Seapark runners with Jennie taking first place in her category. Well done Jennie!
Race Report from Angela McCormick
The great weather on Easter Monday attracted large crowds to Whitehead for the annual 5 mile road race. Twelve athletes from Seapark completed the race with
Ian Cleland taking 8th position overall and Jennie Haggan coming in first in her under 19 age group.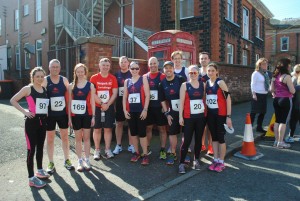 Results: Ian Cleland 29.20, Jonathan Beattie 31.56, Mark Welsh 35.38, Lynda Shannon 36.12, Jonathan Bell 37.01, Philip Poag 39.58, Allan Grant 40.13, Karen Poag 41.26, Wesley Wallace 42.38, Jennie Haggan 42.40, Trevor Lamb 43.32, Alison Welsh 44.57.
More pictures on FLIKR from Neill Harper