The Comber 10K took place on 2nd July.
Results; Ronald Simms 39:48, Robert Murray 41:32 PB, Elisoa Crawford 42:16, Andrew Smyth 50:30, Philip Poag 50:43, Karen Poag 51:35, Catherine Steele 55:14, Jessica Lyness
56:16, Julie Lyness 56:54, Ann McCracken 59:20 & Carol Downey 1:14:59.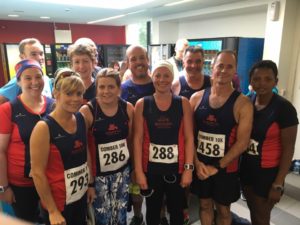 Also on 2nd July was the Sligo Way Ultra (50 miles).  Gillian Barnhill and Gary Connolly finished together in a PB time of 8:42:00.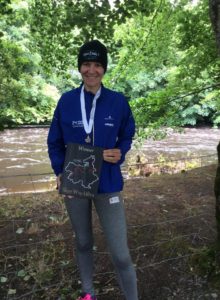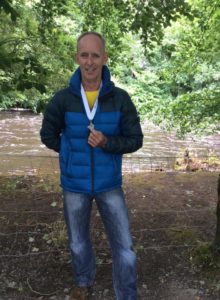 On 3rd July Gavin Irvine completed his first 5 mile race.  He ran the Withernsea 5 mile event in a time of 38:37.
The second club race of 2016 took place on 5th July, the 2.75 Woodburn Forest run.  A record 50 Seapark members took part.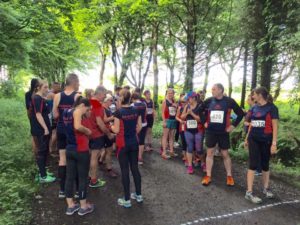 Patrick Hughes crossed the line 1st and was followed by Colin McCrum (2nd) and Beth McCormick (3rd).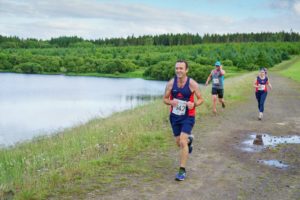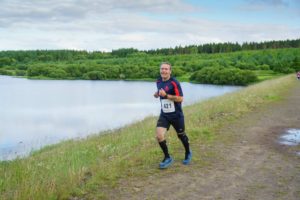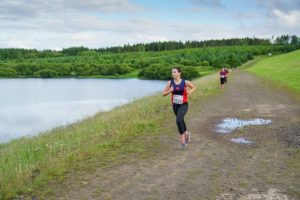 Results in order of time; Richard Craig 16:02, Ronald Simms 17:09, Chris Livingston 17:26, Jonny Preuss 17:35, Ryan Weatherhead 18:15, Elisoa Crawford 18:19, Robert Murray 18:29, Bobbie Irvine 18:35, Jonathan Beattie 19:00, Patrick Hughes 19:08, Jean Claude Baptiste 19:20, Jonathon Bell 19:49, Mark Welsh 20:00, Robert Steele 20:27, Caroline Salters 20:56, Thomas Dunlop 22:03, Heather Haggan 22:14, Amy Beatson 22:19, Jennifer Jackson 22:19, Laura Johnston 22:22, Gary Craig 22:27, Sara Rea 22:31, Andy Smyth 22:28, Julie Clyde 22:38, Beth McCormick 22:53, David Strutt 23:09, Karen Poag 23:25, Colin McCrum 23.34, Nicola Irvine 23:50, Julie Marshall 24:02, Jessica Lyness 24:03, Alison Welsh 24:08, Ruth Hawkins 24:24, Catherine Steele 24:31, Julie Lyness 24:35, Aimee Weatherhead 24:50, Julie Kelly 25:14, Trevor Lamb 25:36, Nikita Murray 25:36, Derek Kane 25:40, Glenda Murray 26:08, Becki Tester 26:17, Nicola Dunlop 26:35, Jenny Robinson 26:42, Phillipa Bell 26:52, Beverley Kernoghan 27:16, Jacqui Coghlan 27:24, Marie Nicholson 27:26, Geraldine Kane 30:03 and Carol Downey 33:12.
Gary Connolly and Gillian Barnhill did four marathons each from 9th-12th July.
Avondale quad results; Gary Connolly 3:50, 4:27, 4:32, 3:52 & Gillian Barnhill 3:38, 3:40, 3:41, 3:47.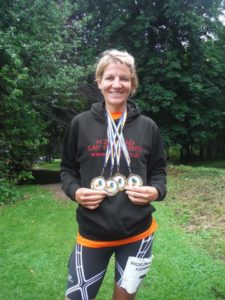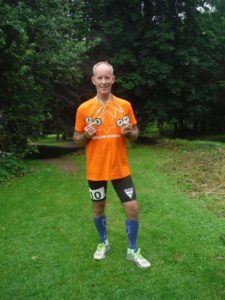 On the 12th July at the Moffat 15K Seapark was represented by both Karen Poag 1:24 and Phil Poag 1:23.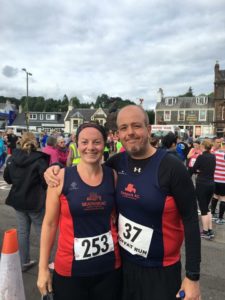 At the Born2Run Sea2Sky 10K in Newcastle on 15th July Seapark had 12 members taking part.  Gillian Barnhill 47:09, Bobbie Irvine 47:42, Thomas Dunlop 57:52, Nicola Irvine 1:01:40, Jacqui Coghlan 1:04:29, Julie Marshall 1:04:33, Karen Waring 1:04:36, Nicola Dhunlop 1:08:15, Marie Nicholson 1:08:53, Jenny Robinson 1:14:47, Caroline Mone 1:18:17 and Gary Connolly (walking) 1:54:33.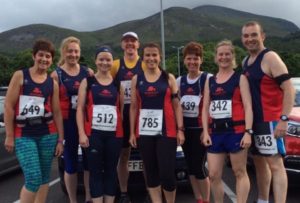 It was another hot day (24 degrees) for the Seapark AC 5 mile club race on Tues 19th July. 27 people took part.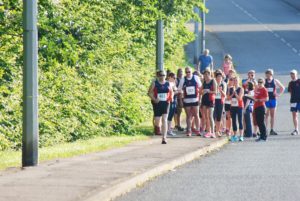 Charlie McCormick was 1st over the line, Colin McCrum 2nd and Ronald Simms 3rd.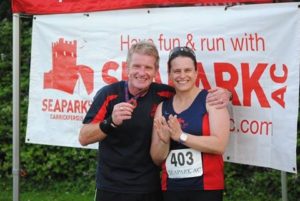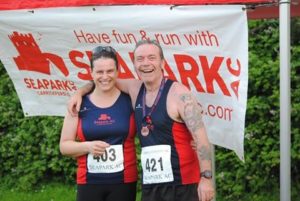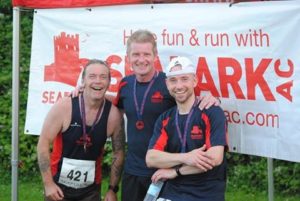 Results in order of time; Richard Craig 30:13, Ronald Simms 32:10, Charlie McCormick 32:25, Elisoa Crawford 34:33, Bobbie Irvine 35:37, Jonathan Beattie 37:04, Mark Welsh 37:06, Jonathon Bell 37:24, Caroline Salters 39:53, Gillian Strudwick 40:11, Thomas Dunlop 41:04, Heather Haggan 41:29, Laura Johnston 41:56, Jennifer Jackson 42:02, Colin McCrum 42:24, Alison Welsh 45:34, Rory Poag 46:02, Nicola Irvine 46:12, Karen Poag 46:14, Jessica Lyness 48:32, Alison Dunlop 48:56, Nikita Murray 48:58, Julie Lyness 50:42, Glenda Murray 51:11, Becki Tester 51:25, Trevor Lamb 52:14 and Marie Nicholson 52:44.
On 22nd July Becki Tester ran the Dalriada 10K in 1:02:47.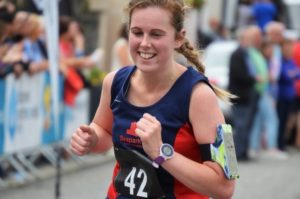 Andrew Smyth completed the Dervock 10K on 23rd July in 52:48.
At the Half Marathon event, also on 23rd Charlie McCormick finished with 1:30:52 and Gillian Strudwick with 1:50:44.
24th July had two big races, the Divis 10K and the Kilbroney Newry & Mourne Mini Marathon (AKA 10K).
At Divis 10K; Robert Murray 47:11, Mark Welsh 52:35, Ronald Simms 55:42, Karen Poag 1:00:08, Rory Poag 1:02:20, Philip Poag 1:02:20, Karen Waring 1:02:31, Jacqui Coghlan 1:02:33, Alison Welsh 1:04:37, Neill Harper (with Oska) 1:08:11 & Marie Nicholson.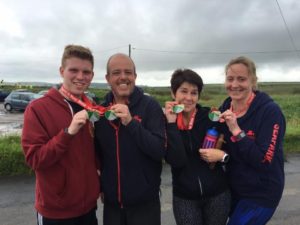 At Kilbroney Newry & Mourne Mini Marathon; Julie Clyde 51:21, Karen Hanson 54:35 PB, Carol Woods 55:59, Julie Kelly 56:18 PB, Nikita Murray 57:14, Nicola Dhunlop 57:22 PB, Glenda Murray 58:09, Laura Laverty 58:28, Becki Tester 58:51, Josephine McAlister 1:01:32, Jenny Robinson 1:02:02, Beverley Kernoghan 1:03:33, Geraldine Kane 1:05:45, Caroline Mone 1:06:34, Lorraine Ogilby 1:09:46, Carol Downey 1:13:23 and Karen McMaster (time unknown).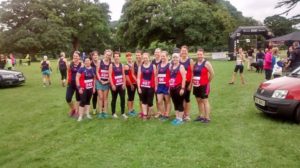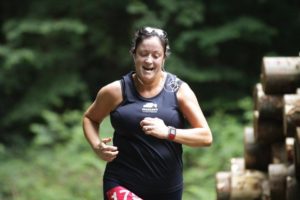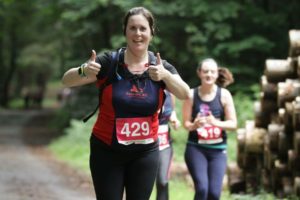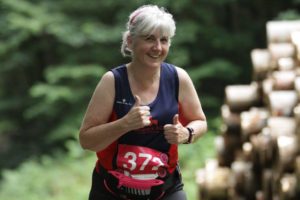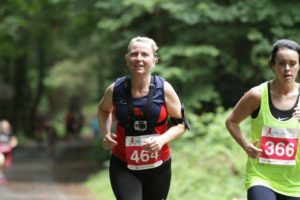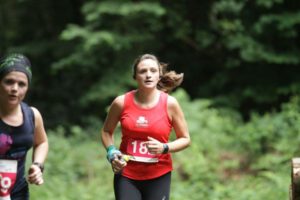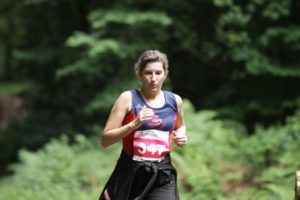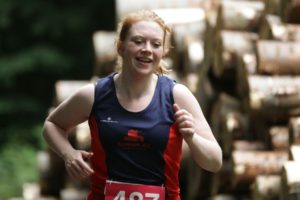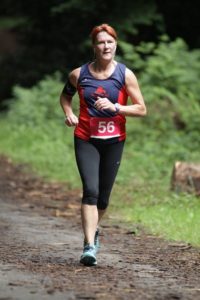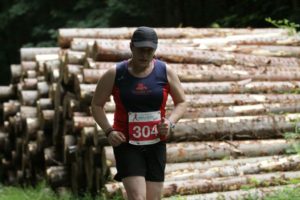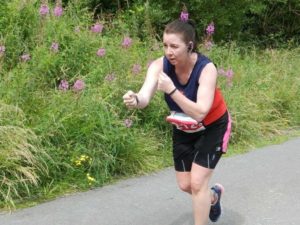 The MCI trail marathon in Edenderry, Co. Offaly was held on 23rd July.  Gary Connolly got a time of 3:52 and Gillian Barnhill's time was 3:26.  Gillian Barnhill completed her 2nd marathon of the week on 24th July at Mount Lucas wind face, Co. Offaly with a time of 3:32.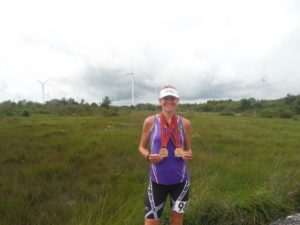 The latest EAMS event was held on Wed 27th July & Gillian Barnhill and Gary Connolly attended.
The Giants Trail Race was on Friday 29th July.
Attending the 6 mile event; Gillian Barnhill 46:04, Gary Connolly 47:09, Julie Clyde 56:26, Lynette Magill 1:00:17, Laura Laverty 1:02:16, Phil Magill 1:02:57, Heather Lown 1:06:03, Josephine McAlister 1:06:44, Beverley Kernaghan 1:09:57 and Lorraine Ogilby 1:15:49.
Saturday 30th July was when Seapark AC celebrated the club's 10 year anniversary by completing the first club 10 mile event. 25 members took part in this historic event.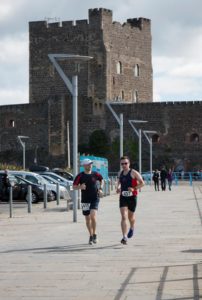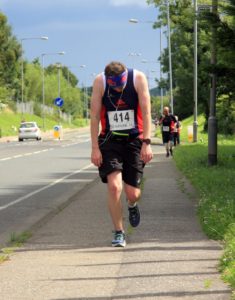 Like the other club runs everyone started at different times depending on their race handicap. Ronald Simms came in 1st, Ian Cleland 2nd and Catherine Steele 3rd.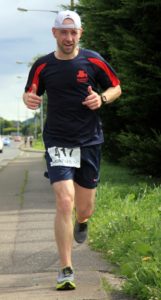 Results in order of time; Richard Craig 1:03:16, Charlie McCormick 1:08:42, Ronald Sims 1:09:27, Jim Jenkins 1:10:05, Elisoa Crawford 1:11:14, Ian Cleland 1:12:08, Mark Welsh 1:18:36, Jonathon Bell 1:21:02, Gillian Strudwick 1:23:12, Bobbie Irvine 1:25:36, Gavin Irvine 1:28:02, Heather Haggan 1:29:57, Phil Poag 1:31:33, Colin McCrum 1:32:40, David Strutt 1:33:21, Robert Steele 1:34:54, Alison Welsh 1:36:18, Neill Harper 1:36:30, Nicola Irvine 1:38:43, Catherine Steele 1:42:45, Alison Dunlop 1:43:33, Ellen Wallace 1:45:42, Jessica Lyness 1:47:13, Gemma Lovell 1:47:13 and Rebecca Tester 1:54:00.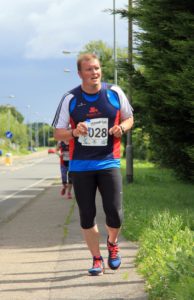 But for Gillian Barnhill and Gary Connolly the Giants Trail Race was just a warm up for the weekend.  On 30th both completed day 60 of Steve's Epic Adventure and completed a marathon from Dundalk to Armagh.
Gary Connolly and Gillian Barnhill completed their 3rd marathon of the week that Sunday.
Gillian was first lady at the Much Hogs Marathon on 31st July.  It was her 150th marathon.
On the same day it was the Cookstown half marathon.  In attendance where Robert Murray, Neill Harper, Karen Waring, Julie Clyde and Josephine McAlister.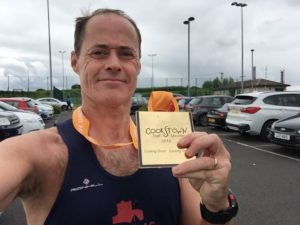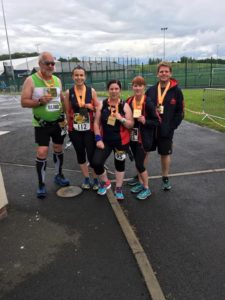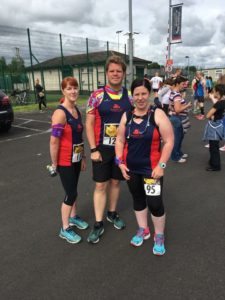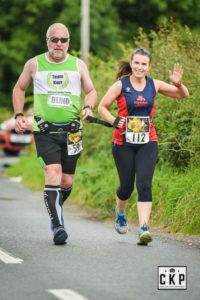 Richard Hetherington 1:19:27, Angela McCormick 1:30:50 and Andy Smyth 1:32:34 completed the Belfast triathlon also on 31st July.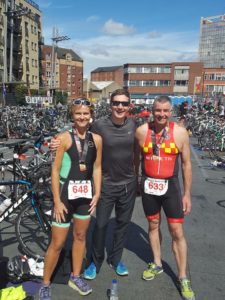 Ronald Simms took 3rd place at the Delamont 10K in 43:17 on 6th August.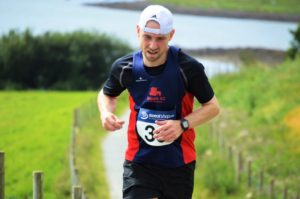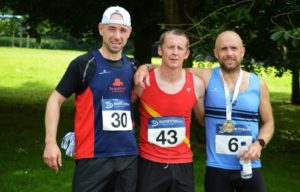 While Robert Steele completed the Kells & Connor half marathon on 6th August.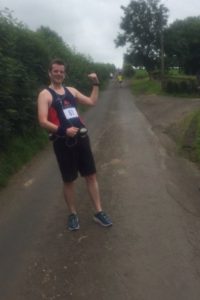 Gillian Barnhill (1st lady with 9:29:55) and Gary Connolly 10:53:12 attended the Tralee 100K on 7th August.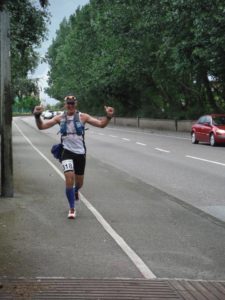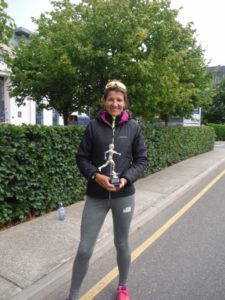 The Dublin Rock N Roll Half on 7th August was attended by  Mark Welsh 1:49:04, Laura Johnston 1:57:39, Bobbie Irvine 1:59:43, Gavin Irvine 1:59:43, Neill Harper 2:07:07, Alison Welsh 2:10:33, Karen Waring 2:11:15, Becki Tester 2:37:53 and Alyn McChesney 2:43:23.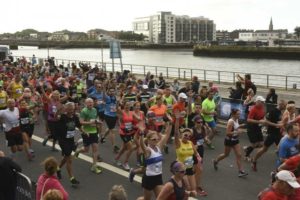 The Mallusk 5 mile Road Race was held on 12th August.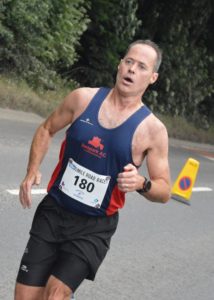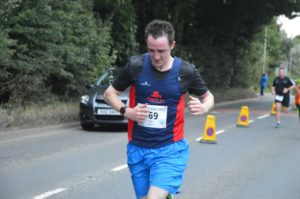 Results; Richard Craig 31:02, Ian Cleland 33:34, Robert Murray 34:18, Philip Mone 43:37, Julie Clyde 45:29, Karen Waring 46:03, Heather Lown 48:01, Philip Magill 48:28, Caroline Mone 56:20, Alyn McChesney 57:06.
Colin McCrum and Gareth Hamill came second in the 5K of Running Blind on 13th Aug.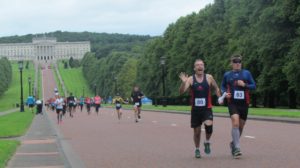 Results; Gareth Hamill 28:52, Colin McCrum 28:53, Jonathon Bell 29:13, Shelly Bell 29:18, Jonathan Beattie 34:21, Philip Mone 37:28, Caroline Mone 37:29, Helenda Perry 39:10, Josephine McAlister 39:10 & Rebecca Tester 58:06.
Groomsport on 13th August was attended by Carol Woods, Andrew Smyth, Caroline Salters, Gillian Strudwick & Charlie McCormick.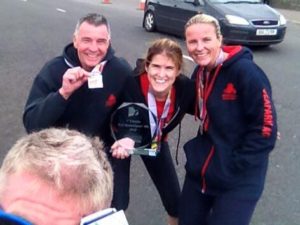 The Tandragee 10K on 14th August was attended by Ronald Simms 39:57, Elisoa Crawford 41:21, Mark Welsh 46:03 & Alison Welsh 58:20.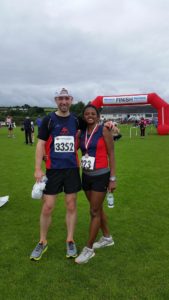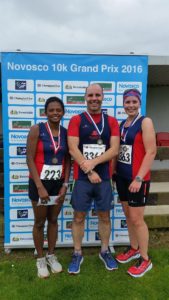 While Gary Connolly completed the Berlin 100 miler on 14th Aug.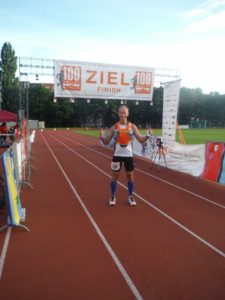 The last of the club races, the 10K, was held on 16th August 2016.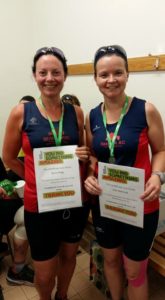 Rory Poag was 1st to finish and was followed by Aimee Weatherhead (2nd) and Marie Nicholson (3rd).  45 members took part.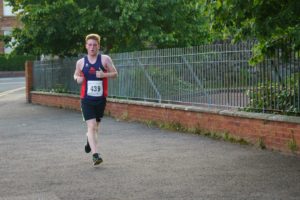 Results in order of time; Richard Craig 36:37, Robert Murray 39:17, Charlie McCormick 39:59, Ronald Simms 40:35, Jim Jenkins 41:21, Elisoa Crawford 41:38, Brendan Rice 42:10, Richard Hetherington 42:44, Ryan Weatherhead 43:17, Bobbie Irvine 44:44, Mark Welsh 45:27, Jonathan Beattie 45:50, Jonathon Bell 46:37, Caroline Salters 47:24, Phil Mone 47:45, Gillian Strudwick 49:42, Heather Haggan 51:04, Phil Poag 51:56, Neill Harper 52:41, Angela McCormick 53:23, David Strutt 53:59, Aimee Weatherhead 54.17, Karen Poag 54:20, Nicola Irvine 54:31, Rory Poag 55:04, Phil Magill 55:11, Colin McCrum 55:14, Sarah Rea 55:24, Julie Hunter 55:40, Laura Laverty 55:54, Julie Marshall 56:37, Alison Welsh 56:37, Lynette Magill 57:35, Jessica Lyness 58:26, Alison Dunlop 58:33, Kate Delaney 58:42, Becki Tester 1:00:00, Trevor Lamb 1:00:06, Shelly Bell 1:00:45, Laura Johnston 1:01:39, Nikita Murray 1:01:45, Marie Nicholson 1:02:36, Glenda Murray 1:03:00, Gemma McCullough 1:04:00 & Derek Kane 1:08:03.
The big event of the 20th August was the Dambusters 10K/Half.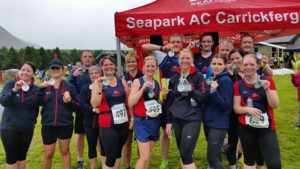 10K; Robert Murry 41:59, Philip Mone 46:45, Thomas Dunlop 50:01, Amy Beatson 51:08, Andrew Smyth 51:33, David Strutt 52:09, Kate Delaney 53:03, Angela McCormick 53:20, Carol Woods 54:48, Sara Rea 55:40, Beth McCormick 57:34, Nikita Murray 58:32, Heaher Lown 58:54, Nicola Dunlop 1:02:10, Glenda Murray 1:03:08, Geraldine Kane 1:07:32, Michael Kane 1:07:59 & Carol Downey 1:18:02.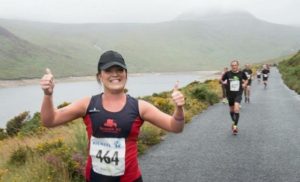 Half; Charlie McCormick 1:33:20, Mark Welsh 1:46:56, Jonathon Bell 1:49:52, Gillian Struwick 1:54:12, Philip Poag 2:03:44, Julie Clyde 2:07:58, Jacqui Coghlan 2:08:35, Alison Welsh 2:12:36, Julie Marshall 2:14:29 & Karen Waring 2:17:07.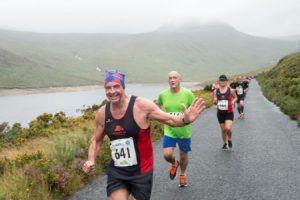 While Neill Harper completed the Reykjavik Marathon on 20th August.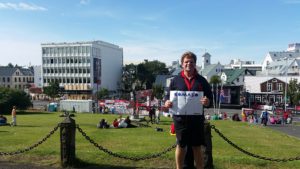 Not one to be outdone Bobbie Irvine completed 104 miles in 24 hrs that weekend running over the Humber Bridge in Hull.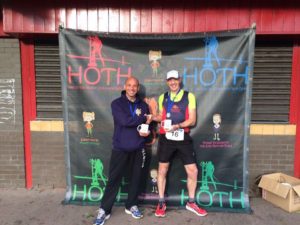 And Gilliam Barnhill and Gary Connolly completed the GBUltra 200 on 22nd August.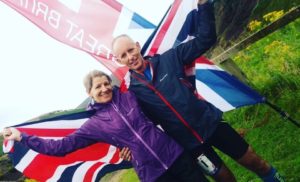 The Larne Interclub Race was was held on 23rd August.  4 miles for the girls and 5 miles for the boys.
4M results; Elisoa Crawford (2nd lady) 26:16, Gillian Strudwick 31:58, Heather Haggan 32:47, Aimee Weatherhead 32:56, Angela McCormick 33:13, Sarah Rea 33:57, Julie Marshall 34:24, Lynette Magill 34:31, Beth McCormick 34:43, Carol Woods 35:00, Julie Clyde 35:19, Laura Laverty 35:27, Janet McCullough 35:39, Shelly Bell 36:27, Gemma Lovell 36:35, Rebecca Tester 36:45, Jessica Lyness 36:55, Julie Lyness 37:33, Catherine Steele 37:55, Heather Lown 39:01, Beverley Kerroghan 40:30, Geraldine Kane 42:10 & Caroline Mone 42:23.
5M results; Richard Craig 29:21, Ian Cleland 31:34, Ronald Simms 31:38, Robert Murray 32:13, Charlie McCormick 32:24, Ryan Weatherhead 33:43, Jonathon Bell 36:55, Philip Mone 37:35, David Strutt 41:38, Andrew Smyth 43:42 & Phil Magill 44:32
And at the Portush 5 mile race on 26th August was attended by Mark and Alison Welsh.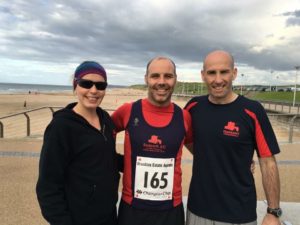 Thomas Dunlop got a PB at Killyleagh Castle on 27th August.
While the biggest race of the year for Seapark AC had to be STC 10K on 28th August.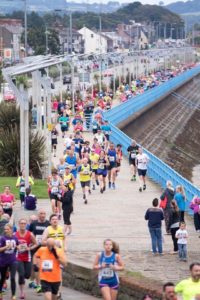 Results; Richard Craig 36:38, Willian Jenkins 39:35, Robert Murray 40:41, Elisoa Crawford 41:50, Ryan Weather 42:05, John Barron 43:41, Mark Welsh 44:01, Charlie McCormick 44:35, Jonathan Bell 46:36, Robert Steele 46:37, Paul Daniels 46:54, Gavin Irvine 47:23, Patrick Hughes 48:23, Heather Haggan 49:46, Amy Beatson 50:01, Garth Hamill 51:22, Lara Johnston 51:39, Aimee Weatherhead 51:49, Phil Magill 52:06, Janet McCullongh 52:09, Jennifer Jackson 52:15, Nicola Irvine 53:14, Caroline Tester 53:48, Colin McCrum 53:58, Michael McKeever 54:11, Emily Smiley 54:17, Julie Marshall 54:18, Alison Welsh 54:26, Jonathan Beattie 54:52, Sarah Rea 55:34, Lynette Magill 55:30, Catherine Steele 56:30, Jessica Lyness 56:56, Genma Lovell 57:00, Julie Lyness 57:53, Neill Harper 58:05, Shelly Bell 58:42, Rebecca Tester 59:05,  Roisin McConnell 59:14, Gary Craig 1:01:18, Jennie Haggan 1:01:40, Lorna Dunn 1:01:52, Beverly Kernighan 1:02:30, Emma Pearson 1:02:56, Derek Kane 1:05:04, Trevor Lamb 1:06:12, Michael Kane 1:07:42, Josephine McAlister 1:08:35, Geraldine Kane 1:10:01, Alyn McChesney 1:12:45 & Jacqui Haggan 1:27:41.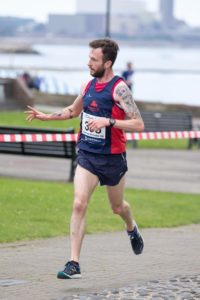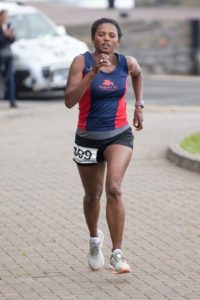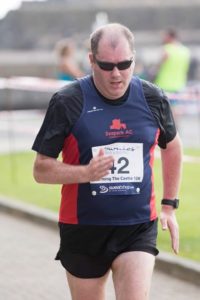 Also on 28th August Gillian Barnhill and Gary Connolly went to Armagh for the marathon.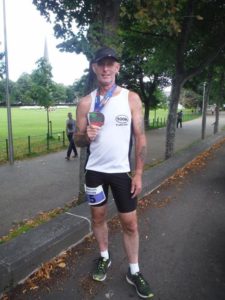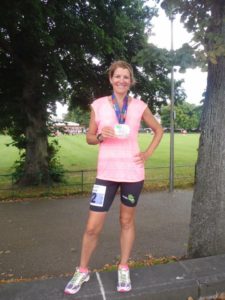 The 4th Sept brought the Laganside 10K.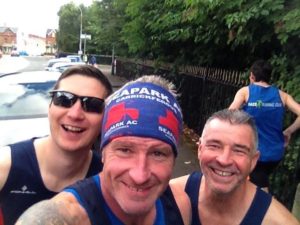 Results; Ian Cleland 39:04, Robert Murray 40:15, William Jenkins 40:25, Charlie McCormick 40:47, Richard Hetherington 42:51, Janet McCullough 52:29, Andrew Smyth 54:56, Sara Johnston 55:49, Julie Marshall 55:51, Carol Woods 59:29, Ann McCracken 1:00:18, Susan Kane 1:10:59, Alyn McChesney 1:15:34 & Michael Kane (time unknown).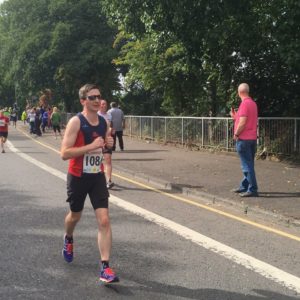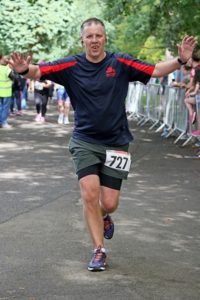 Jonathan Beattie and Angela McCormick attended the Stena Line Triathlon 4th September.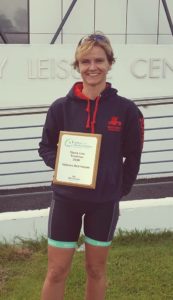 The inaugural Larne 10K was held on 10th Sept.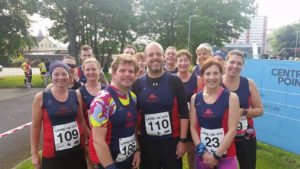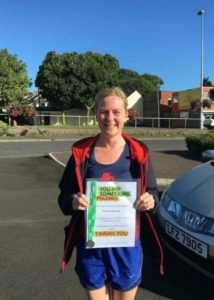 Results; Richard Craig 38:46, Phil Poag 50:40, Heather Haggan 51:04, Philip Magill 52:18, Karen Poag 52:33, Julie Clyde 53:49, Lynette Magill 55:51, Catherine Steele 56:11, Colin McCrum 56:14, Neill Harper 56:59, Nicola Dunlop 1:02:33, Beverley Kernoghan 1:04:18, Susan Kane 1:05:16 & Lauren Scott 1:06:17.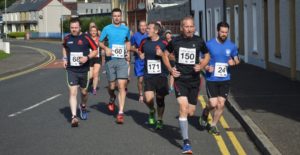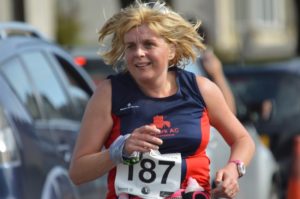 But lets not forge the Whitehead Beer and Pieathon also on 10th Sept.  It was a lighthearted charity run where times didn't matter but Seapark, never one to miss a podium opportunity, took 5 of the 6 podium places up for grabs.  Looks like we have some very talented drinkers… I mean runners in our club.  A grand day out had by all.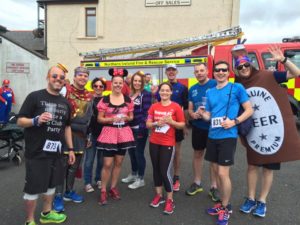 The EAMS Knockathon half marathon was also on 10th Sept.  It was attended by Robert Steele 1:49:53, Jacqui Coghlan 2:13:46 (3rd female) and Julie Marshall 2:13:48.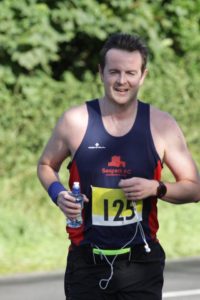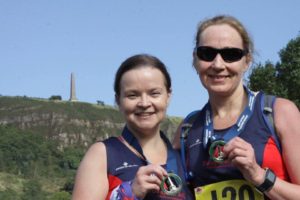 And  on 11th Sept it was time for the Great North Run.  Five intrepid Seaparkers headed to Newcastle Upon Tyne for the half marathon.  Poor Ann was suffering from flu but decided to run and incredibly lived to tell the tale.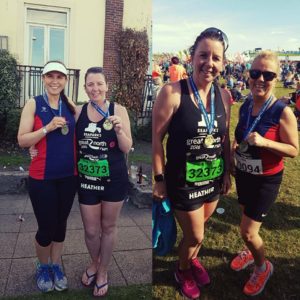 Results; Thomas Dunlop 1:56:23 PB, Karen Waring 2:05:53, Ann McCracken 2:29:10, Heather Lown 2:46:26 & Gavin Irvine (who's still running back for his train).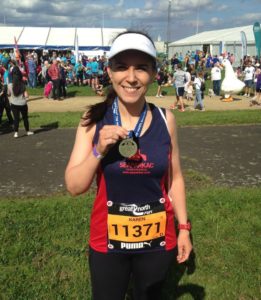 The Wilderbeast 10 mile at Glenarm Castle was held on 17th Sept.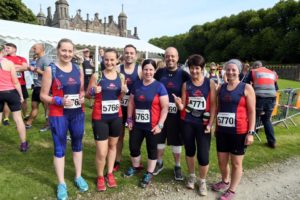 1st Seaparker home was Ian Cleland in 1:10:14 (11th place) and he was followed by Phil Poag 1:32:47 course PB, Karen Poag 1:34:37 course PB, Jacqui Coghlan 1:36:08, Sara Johnsyton 1:36:13, Shelley Bell 1:46:41 & Marie Nicholson 1:56:59.
The 5K event was ran by Josephine McAlister in 35:34.
The Kent Coyote Marathon was on 18th Sept.  Neill Harper completed it in 5:14:18.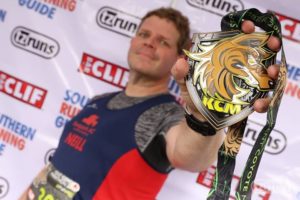 Also on 18th Sept was the Belfast half marathon.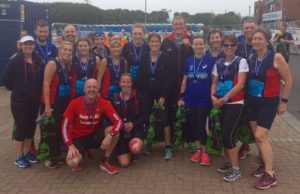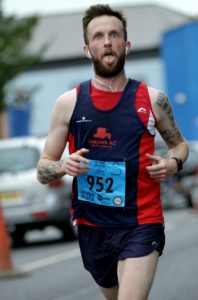 Results; Richard Craig 1:21:17, Jim Jenkins 1:27:53, Charlie McCormick 1:29:13, Robert Murray 1:32:22, Bobbie Irvine 1:41:07, Mark Welsh 1:42:42, Jonathon Bell 1:44:46, Julie Clyde 1:45:26, Thomas Dunlop 1:47:10 PB, Philip Mone 1:50:34, Heather Haggan 1:54:50 1st HM, Caroline Salters 1:56:12, Aimee Weatherhead 1:56:12 1st HM, Janet McCullough 1:57:51 1st HM, Amy Beatson 1:57:59 1st HM, Julie Marshall 1:59:20 PB, Allan Grant 1:59:32, David Strutt 2:02:49 1st HM, Alison Welsh 2:04:41, Andrew Smyth 2:04:44, Nicola Irvine 2:05:19 1st HM, Karen Waring 2:07:21, Julie-Anne Mitchell 2:12:48, Rory Poag 2:12:58 1st HM, Karen Poag 2:12:58, Phil Poag 2:12:59, Catherine Steele 2:14:48 1st HM, Julie Lyness 2:15:47 1st HM, Gemma Lovell 2:16:07 1st HM, Jessica Lyness 2:16:15 1st HM, Ellen Wallace 2:22:06 1st HM, Gemma McCullough 2:27:40 1st HM, Emma Pearson 2:30:33, Geraldine Kane 2:33:06, Caroline Mone 2:35:24, Alyn McChesney 2:37:58 & Gillian Strudwick (time Unknown).

Members of Seapark attended 2 races on 24th Sept, the Causeway Coast Half Marathon and the Bangor Aurora 10K.
Carol Woods, Lynette Magill, Alison Dunlop, Lauren Scott and Aly McChesney all completed the Causeway Coast 10K.  While Julie Clyde, Karen Hanson, Philip Magill and Josephine McAlister all ran the Half Marathon.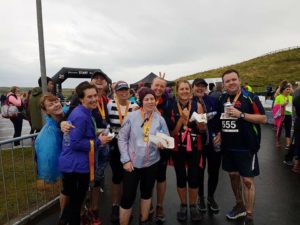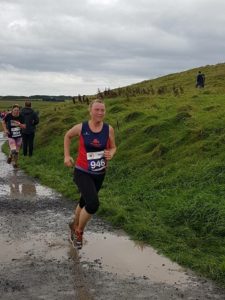 At Bangor; Charlie McCormick, Richard Hetherington, Mark Welsh, Phil Poag, Karen Poag, Alison Welsh, Karen Waring, Neill Harper, Susan Kane and Geraldine Kane.  Alison Welsh 54:08 and Susan Kane 1:03:35 both ran PBs.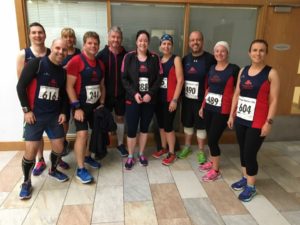 While Becki Tester ran the Euro Disney Half Marathon on 25th Sept.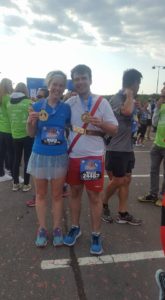 And lastly Derek Kane is the latest member of the Seapark Triathlon Club, as he took part in "Try a Tri with High Elbow" at Antrim Forum.