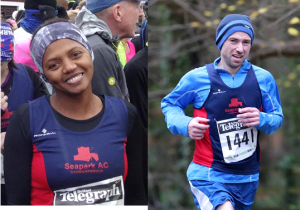 The third event in Born 2 Run's Run Forest Run Series took part today in wet and windy conditions at Loughgall in Co Armagh.  As with the other races in the series the course took in the picturesque village of Loughgall and  Loughgall Estate.
Today's course was shortened due to flooding bought about by the recent bad weather conditions.
First male home for Seapark was Ronald Simms in a time of 35:49 and Elisoa Crawford, first Seapark lady, put in an impressive performance to finish in a time of 36:39 placing her as 6th lady finisher.
Results: Male
Ronald Simms 35:49
Bobbie Irvine 38:35
Phil Poag         45:22
Neill Harper    49:34
Results: Female:
Elisoa Crawford  36:39 (6th female)
Gillian Cordner   39:37
Jennie Haggan    43:09
Karen Poag           46:03
Alison Welsh         50:16
Ann McCracken    50:58
Karen McMaster   55:31
Karen Waring       55:12
Becki Tester          57:16
Photographs: Neill Harper and Belfast Telegraph