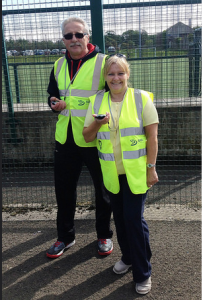 All in all a month of strong parkrun performance from 26 Seapark members.
Ian Clelland, continued his consistent performance at Carrickfergus parkrun taking first place on 11th July in 18:52 and 3rd place on 25th. Great to see Jonathan Beattie back after injury with a good time of 22:11 on 18th July. Charlie McCormick ran very consistently on his parkruns in July placing 5th twice with times of 20:37 and 20:41. On his one appearance at Carrickfergus parkrun, Richard Hetherington came 4th on 11th of July in a time of 20:39.
Bobbie Irvine completed 3 parkruns in total in July, one of these at Carrick and 1 at Antrim where he placed 5th in a time of 19:02 and it was an Irvine family parkrun parade at Hilly Fields parkrun in July with wife Nicola, son Gavin and daughter Emily on taking part!
Brendan Rice and his girls are firm favourites at Carrickfergus parkrun and Brendan completed all 4 parkruns at Carrickfergus in July taking 3rd place on 2 of these (11th and 18th).
Robert and his wife Glenda Murray both ran at Carrickfergus on 4th July with Robert finishing 3rd in a time of 22:06.
Finally for the first time, Seapark ladies took first place on two occasions at Carrickfergus – Gillian Barnhill, more accustomed to longer distances, was first lady at Carrickfergus parkrun on 5th July in 21:06 and Karen Poag on 18th July in a time of 25:18.
Other members attending Carrickfergus parkrun in June included Allan Grant, Mark Welsh, Gareth Hamill, Phil Poag, Tony Barclay Roisin McConnell, Gary Connolly, Jonathan Brown. Johnathan Bell and Angela McCormick.
parkrun tourism!
Lots of parkrun tourism going on as well in July to other local parkruns in Antrim for Bobbie Irvine and Robert (21:11 PB) & Glenda Murray. Robert also visited Larne for the beautiful and scenic Carnfunnock parkrun. Trevor Lamb visited Waterworks and also Victoria with Colin McCrumm (21:12 PB) and Karen McMaster took part in the Ormeau parkrun.  It was sunny Portrush that was chosen by the Hetherington family for their visit to parkrun on 19th July.
Further afield the Irvine four all took part in Hilly Fields, Lewisham with Gavin doing his 56th run at Hull parkrun and Emily finishing 3rd lady on her visit to Carrickfergus.
pictured: keeping everything on time Seapark volunteers Diane Taylor and Marian Mach