June was a buy month for Seaparkers at parkrun.
Ian Clelland, running very consistently at present,  secured 1st male at Carrickfergus on two consecutive weeks 20th & 26th, Ian Hunter took 3rd male on his June parkrun at Carrickfergus in a PB time of 19:36. The Carrickfergus team welcomed Charlie McCormick back after his injury earlier in the year. Charlie put in a strong comeback performance on 27th June. Warren Cosgrove continued to improve on his parkrun time and bagged himself 29:33 on 27th June. After a long spell in the desert Bobbie Irvine decided to run at home in June, completing 3 runs at Carrickfergus. Other members attending Carrickfergus parkrun in June included Mark Welsh, Lynda Shannon, Gareth Hamill, Phil Poag and Tony Barclay.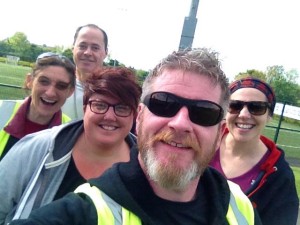 Volunteers at parkrun 2nd June – me thinks they need more work!
parkrun tourism!
Lots of travelling going on as well in June to Portrush. – Ian Cleland on 13th June who took 4th place at Portrush. Gillian Barnhill dropped in to Carigavon on her way to a much longer run on that day (28th) and managed to secure 3rd lady! Robert Murray completed all 4 parkruns in June, one in Carrickfergus and the others at Antrim, Queen's and Victoria. Colin McCrumm also completed all 4 parkruns in June with two away runs at Queen's and Victoria. Karen McMaster chalked up her 50th parkrun in June and completed all 4 parkruns at 4 different locations! – Antrim, Carrickfergus, Queen's and Waterworks. All that travelling Karen 🙂 Ruth Hawkins joined the tourist trail and managed her fastest parkrun time yet (24:55) in Antrim and Sara Johnston got her best time away from home as well with 28:47 at Portrush. Trevor Lamb – we missed you! – you did both your June runs at Ormeau. Finally Gavin Irvine completed his June run at Kirkcaldy and The Rice family went on a wee parkrun trip to Queen's.