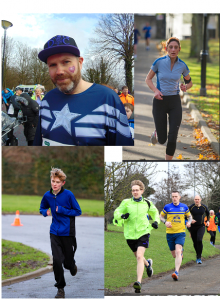 Seapark was frequently represented at the local Carrickfergus parkrun as well as at away runs during March.
Lynda Shannon completed a hat trick at Carrickfergus by coming first lady home at the 3 events she ran.
Ian Cleland continued his run of strong performances at Carrickfergus by placing in the top 3 first finishers on the three events he ran, including a new PB of 18:42.
It was another successful month for Charlie McCormick who placed third on the two Carrickfergus parkruns he completed as well as a new PB of 19:27.
The PB story continues with Richard Hetherington obtaining a fantastic new PB of 20:19 Seapark Junior member, Jonathan Brown getting a PB of 22:24 at one of his two Carrickfergus parkruns.
Meanwhile Seaparkers went on parkrun tour to events in Edinburgh , Victoria, Valley and Bangor. Trevor Lamb visited three parkruns in total during March; Valley, Falls and Victoria.