The 2017 Storming the Castle 10K Road Race was hailed a big success by local Mid and East Antrim Mayor.
Local Mid and East Antrim Mayor Cllr Paul Reid recently hosted a reception for all those involved in the successful Storming the Castle 10K Road Race and Family Fun day.
This year the annual running event took place in Carrickfergus on Sunday 27th August 2017 with around 800 athletes taking part – a record year surpassing all expectations.
Mid and East Antrim Mayor, Cllr Paul Reid said, "I was very impressed with the level of commitment and civic pride of all those volunteers involved. This was an excellent event for the area, bringing in visitors, involving local business, community groups and inspiring athletes to run for many local charities."
"I would like to make a special mention to Jasmin Patterson from Carrickfergus that did the race in her own unique way to raise over £300 for Macmillan Cancer Care."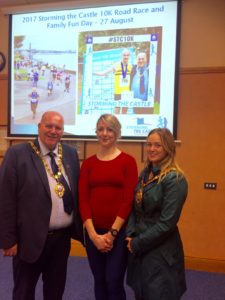 "Presenting the prizes on the day I spoke with many visiting athletes and volunteers and the feedback I got was amazing. It presented the town in a very positive way, showcasing all the iconic attractions as well as promoting community health and wellbeing. This partnership between the Council and Seapark AC is a good example what we are trying to do to through our Community Planning, delivering better services that make a real difference to people's lives."
"I want to commend all those involved and wish them every success for the 2018 Storming the Castle Road Race and would encourage even more people to take part next year", Cllr Reid concluded
Andy Smyth, Storming the Castle Race Director said, "This year's race was a massive success with representation from running clubs and individual athletes from across Northern Ireland. There was a fantastic atmosphere with many people bringing family and friends and making a day of it with a range of family entertainment in Shaftesbury Park."
"We are delighted the Mayor was pleased with the event and the contribution it makes to the town. The feedback has ensured the race is now a 'must do' event in the annual running calendar – particularly as it is part of the Novosco 10K Grand Prix Series."
"This recognition from our local Mayor is a great way to thank everyone on the organising committee who worked so hard to make it such a triumph and I would very much like to thank him for his support. It is a great endorsement as we start to plan for the 2018 event and aim to build on our success and continue to grow year on year", Andy concluded.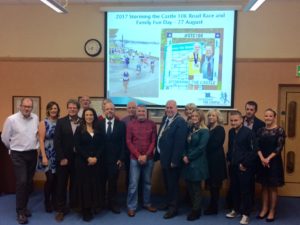 Click for results.
https://www.championchipireland.com/cca/results/files/STC%202017%20Result.xls
You can use the official hashtag #STC10K for all your selfie posts.
We're one of the 15 races of the 2017 Novosco 10K Grand Prix.
Ownies Bar & Bistro was the main sponsor for #STC10K 2017.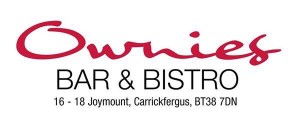 SPR McGowan sponsored the #STC10K 2017 Male Open Race.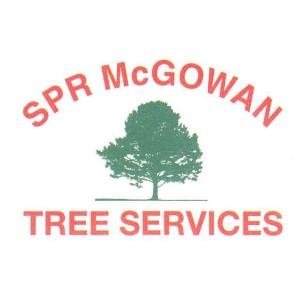 Carrick Osteopathic Clinic sponsored the #STC10K 2017 Female Open Race.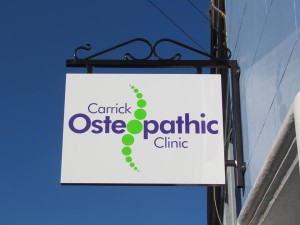 Abbey Insurance sponsored one of the #STC10K 2017 age category winners.
Abbey Insurance Brokers Ltd
8 Governors Place, Carrickfergus, BT38 7BN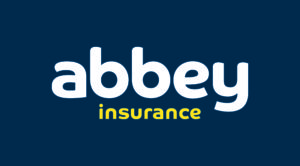 Dale Farm supported #STC10K again this year.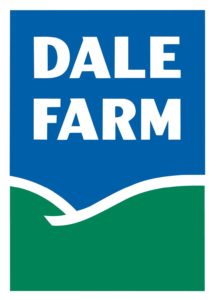 Pure Running wax a sponsor this year.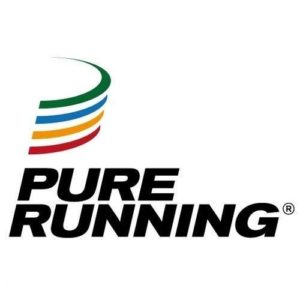 Photos of the previous Storming the Castle events can be found on the Carrickfergus Camera Club website. Click the link for details.